dm drogerie markt´s Czech warehouse capacity gets a health kick with new space at Prologis Park Prague D1 Ostředek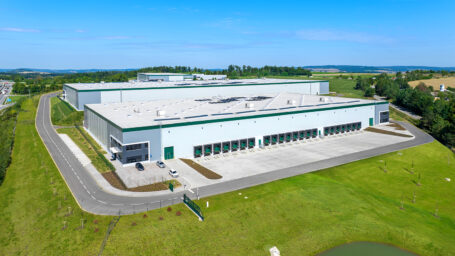 The leading drugstore chain has signed a lease agreement that's sure to keep its Czech distribution operations fit and healthy. 
Prologis parks provide spaces that businesses need to thrive and grow. Given that dm drogerie markt, a leading drugstore chain on the Czech market, provides a similar kind of health boost for its own customers, a new lease agreement signed between the two companies for space at Prologis Park Prague D1 Ostředek cements a perfect match.
dm's new distribution center, including warehouse space and related administrative facilities, will cover over 21,000 square meters in this prime location. Prologis Park Prague D1 Ostředek provides easy access to the Czech capital as well as other major markets in the Czech Republic and abroad.
The warehouse meets dm's specific storage and distribution requirements, while the company will also benefit from advanced sustainability solutions. These solutions, including heat pumps, smart LED lighting, and preparations for the installation of an on-site solar power plant, have led to the space being awarded the prestigious Excellent rating by BREEAM.
dm drogerie markt will move into their new space in February 2024. The transaction was brokered by real estate consultancy Cushman & Wakefield.
"From February, dm drogerie markt will be working in one of the Czech Republic's most advanced warehouses," says Anna Jůzová, Leasing and Customer Experience, Manager at Prologis. "The space is equipped with modern solutions ensuring greater environmental protection as well as operational cost savings. dm's space is an example of how Prologis provides the services and amenities that customers need to grow their businesses in an efficient, streamlined and sustainable way."
"dm drogerie markt will reap significant benefits from their new distribution center," says Robert Bocker, Partner and Head of Industrial Brokerage and Tenant Representation in the Industrial Team Cushman & Wakefield. "By providing increased warehouse capacity and a prime location by the D1 motorway just 30 minutes from Prague, the distribution center will help this leading drugstore chain streamline its operations while also boosting its sustainability credentials."
Prologis Park Prague D1 Ostředek is a dynamic new park on the Czech market built according to the latest trends and requirements in sustainable logistics, including a gas-free power supply. Meanwhile, a location close to dm's other distribution centers will boost efficiency for dm's entire distribution network.
People working at Prologis parks throughout the Czech Republic enjoy spaces for outdoor rest and relaxation, five-a-side football pitches, BBQ areas, and much more. They also have the chance to participate in various activities and events including free medical health checks and special culinary treats.
"This modern distribution center is ideally situated to connect with our existing distribution network and the new, larger storage capacity will help us better supply all our stores and the online shop in the Czech Republic in the years to come," explains Petr Vaněček from dm. "We're excited to move into the space in February, and to make the most of the excellent benefits with the location will bring to our business and to our employees."