Despite being a "dog nation", Czechs don't fly with their pets often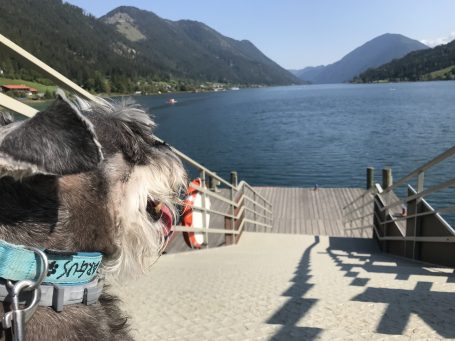 On the occasion of Love Your Pet Day on February 20, Kiwi.com is sharing "travel pet data", including a list of the top nationalities who like to travel with their pets, and basic rules for animal transportation in the air.
While American pet lovers rule the air space, Czechs are down in 12th place, despite being known as a "dog nation" (every other Czech household owns a dog, according to statista.com – the Czech Republic came in second place for the share of households owning a dog in the EU, with 41 percent). In terms of the total number of pets per household, Czechs take the number one spot in the EU, with over 64 percent owning a pet and 2 million dogs in the country.*
 "It seems Americans simply can't imagine travelling without their pets. They account for over 30 percent of all pet travellers," said Eliška Dočkalová, Customer Experience Director at Kiwi.com. Other frequent pet flyers include the French, Spanish, Germans and Mexicans, according to Kiwi.com's pet reservation data.
In recent years, interest in travelling alongside fluffy friends is growing, according to Kiwi.com's data
"Up to 2019, we recorded a 100% increase in reservations in bookings with animals year on year. In 2020 there was a decrease due to the pandemic and related travel restrictions. But this year we are already seeing a growth in numbers again," said Eliška Dočkalová, adding that Kiwi.com's passion for pets probably plays a big part of this growth. "Here at our Brno headquarters in the Czech Republic, there are more than 150 dogs that accompany their owners throughout the working day. And quite a few of them have already experienced flying with us!"
These days it is not unusual to take your pet with you on a plane, although it is always necessary to know and understand the details and conditions for transport. Just as the conditions of entry into destinations with animals may differ from place to place, so may airlines' rules for transportation. 
"We always recommend that customers find out before buying their ticket whether the carrier provides animal transportation at all, and what the conditions and fees are. The conditions may vary depending on the size and breed of the animal," says Dočkalová, adding that most airlines and airports are ready to handle pet travellers, even during the pandemic, whether travelling in the cabin or in luggage compartments.
Kiwi.com's pet policy makes it to add a pet as an additional service after the ticket reservation is finalised – if the airline allows pet transportation. Travellers receive an email with the price of transportation and additional information on the subject following consultation with the airline. 
In addition to the technical requirements of flying with pets, it is important to focus on the pets' needs before and during the journey, ensuring they are comfortable and stress-free. It is therefore advisable to consult your veterinarian, who will check the animal's health and provide practical advice for the trip.
Tips for pet travellers
"When transporting dogs within EU countries, the animal must have an identification chip. A passport and rabies vaccination are also required, and the animal must also be dewormed to enter some particular destinations," informs MVDr. Martina Načeradská from the Prague Veterinary Clinic.
Martina states that when animals are healthy and used to travelling with their owner, travelling by plane is no big deal. "But if the animal is not used to flying, it's a good idea to get the animal accustomed to using the crate that is approved by the airline, leaving it accessible and open at home, or to feed the animal in it so that it is considered a safe place," says the vet. For longer flights, it is necessary to provide the animal with a water supply and toilet goods, which are provided along with the crate if they will be required during the flight.
As for larger animals that have to travel in the luggage compartment, MVDr. Načeradská recommends a bigger crate with water and food, a small toilet for a cat, a blanket, and a pet bed. The pet must be able to stand in the crate and turn around. And what are the options for curing potential nervousness before and during the trip? Popular solutions include collars with pheromones for a dog, or feliway spray for a cat crate. "In general, I recommend products that calm the animal, but do not make the area damp," concludes Načeradská.
* (data FEDIAF  2019)