PUMA X MR.DOODLE: A NEXT LEVEL COLLAB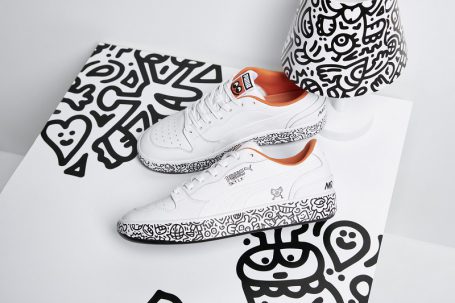 Global sports company PUMA and Mr. Doodle have partnered to create one of this summer's most vibrant and playful footwear, apparel and accessories collections.
PUMA enters the universe of Mr.Doodle to explore it together. PUMA logos and graphics embrace the hand-drawn doodle style while Mr.Doodle making his characters discover the world of sports. The result is a young, vibrant, playful collection with hidden messages and details throughout the design. This collaboration features unisex footwear, apparel, and accessories in mostly black and white pieces, with some hints of orange, purple and lavender.
Sam Cox, an English artist better known as Mr.Doodle, discovered his love of scribbling and doodling at an early age. What started out as usual childhood scribbles on everything from schoolbooks to his parents' furniture has since evolved into not only a successful career, but an entirely new universe dubbed DoodleWorld. His doodling is often described as "Graffiti Spaghetti", as his characters and patterns look like they are exploding out of the canvas.
"If doodling were a sport, I think I would have enjoyed P.E. at school," said Mr.Doodle. "I'm interested in the parallels between sport and doodling, it's all about energy, I think you can feel that sense of movement when you see doodles. There's a connection between doodles and sport."
The Sky LX Low, RS-2K, Cali Wedge, Leadcat 20 and Mile Rider are given a playful look for the PUMA X Mr.Doodle collection. The RS-2K X Mr.Doodle features embellishments like asymmetric lacing, doodles on the midsole, and a doodle arrow below the laces. The Mile Rider X Mr.Doodle features a sporty mesh upper with colorful overlays and doodle graphics on the midsole.
The apparel in the collection includes a wide range of clothing for both men and women. The PUMA x Mr.Doodle Reversable Coach Jacket is one of the most unique pieces in the collection; it can be worn as a plain black jacket with small doodle embellishments or reversed to become a statement piece with an all-over print of sport-inspired doodles.
Add a touch of doodle to any look with the accessories from the collection. The PUMA x Mr.Doodle Shopper comes in a semi-transparent material with a doodle print all over the front panel and doodle accents on the webbing shoulder straps. It includes a large zip opening into the main compartment with an internal hanging zip pocket for storing smaller items.
Get your PUMA x Mr. Doodle when it drops on August 14th on PUMA.com, PUMA Stores and selected retailers globally.