Emirates cabin crew shares her top tips for travelling with kids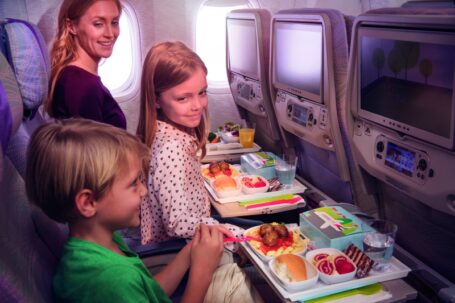 Summer is just around the corner and many families are already planning their holidays. Travelling with children can be sometimes stressful, so it's important to plan everything in advance and get kids prepared for the flight itself. Emirates provides tips from experienced Czech cabin crew member Lenka Ajmi Moulisová for travelling with children and ensuring your journey is as smooth as possible. Unfamiliar settings and disturbed routines can lead to tantrums, tiredness and tears – but being smart about how you fly can make all the difference.
Czech cabin crew member Lenka Ajmi Moulisová, who has been working with Emirates for over 5 years, shared her top tips for those planning to travel with babies or young children this summer.
When booking your flights
Wherever possible, try to time your flights in line with your child's daily routine – for example, plan your travel at mealtimes or during naps to reduce the likelihood of a tantrum!
Don't assume your kids will sleep all the way through a late night or overnight flight. Excitement may keep them awake, and you could end up dealing with exhausted toddlers halfway through the journey.
Choose your seats wisely. Consider the advantages of sitting closer to toilets, as this can be convenient, or choose bulkhead seats with no seats in front and some extra space for children to play in.
You may want to consider booking in the back third of the plane, as this area tends to be less busy when a flight isn't full.
Pre-book children's meals to ensure your little ones get appropriate food and snacks, saving you the stress of trying to arrange something for them on the flight itself. Emirates offers meal options for both babies and children.
Try to have your accommodation and destination transport arranged in advance, especially if you'll need car seats. It's a relief to avoid waiting in taxi queues, and not having to worry about the safety element at the end of a long trip.
Before travelling
Pack some fruit gums and other sweets: these can be great for take-off and landing as they help reduce the pressure on a child's ears.
When travelling with Emirates, children aged between two and 12 can enjoy special kids' meals. If your child has specific dietary requirements, you can choose from special meals when you book or afterwards via Manage Your Booking. You can also choose from a range of Ella's Kitchen baby meals. The Ella's Kitchen range is all organic, so you can rest easy knowing your little one is properly nourished on board.
Let your children bring their own carry-on bag and a couple of toys. It can make them feel more grown-up and add to the excitement of travelling – although it's a good idea to ensure toys don't have small parts and that they are brightly coloured, in case they are dropped or become lost.
Plan kid's clothing carefully and pack a mini travel pillow for them to make the journey as comfortable as possible. It's also a good idea to have a spare change of clothes and a spare shirt for yourself in case of accidents or spillages.
At the airport
Explain the security screening process to your children before you travel. It can be a confusing experience when they have to put their favourite toy onto the conveyor belt or become briefly separated from their parents to go through a scanner.
Think about your pram. If you want to take a pram through the airport, consider investing in a folding one that can be taken on the plane.
Snacks can be a saviour if you find yourself facing unexpected delays, or when moving between time zones. Your little one's body clock and appetite may be affected, and they may not be hungry when meals are served.
Try to board the plane first or last. Most airlines offer families priority boarding, but some parents prefer to board last, as it minimises the time little ones are on the plane. However, if you're travelling with multiple children and have lots of carry-on luggage, boarding early gives you more time to settle into your seats.
During the flight
Dehydration can exacerbate jet lag, so make sure children are taking sips of water as often as possible if you're travelling between time zones.
Make use of in-flight entertainment! Giving your children permission to watch more television shows and films than usual can be an easy way to keep them occupied. Airlines often have plenty for children to watch.  On Emirates flights children can say hello to all their favourite characters on board, choosing from over 50 Disney classic films and from over 100 kids' TV channels including CBeebies, Cartoon Network and Nickelodeon. Kids on Emirates flights also get a set of funky headphones which are specially designed to fit their heads comfortably, so they can simply plug in to their personal seatback TV and relax.
Never underestimate the power of a new toy. It can be a great distraction when presented at the right moment! When travelling with Emirates, kids can collect colourful belt bags, backpacks and duffle bags. The tiniest travellers can even get a soft vibrating toy to clip on their pram. All Emirates toys are made from recycled materials, and bags are made from 100% recycled plastic bottles.
Enlist the help of cabin crew. They can help with warming bottles – Emirates carries milk formula and baby bottles onboard if you need them – or with keeping baby food refrigerated, offering kids activities, and even holding meals until a convenient time.
After landing
Disembark last. Unless you have a connecting flight or are in a hurry, take your time. It means you won't be rushed when packing everything up – and there's less chance of forgetting a beloved toy.
Look for airports' family lanes; most have these for parents travelling with children, which could save you a long wait.
Trying to manage jet lag? Expose your children to as much daylight as possible, try to avoid naptime too late in the day, and try to ensure their mealtimes are regular.