Kuehne+Nagel introduces non-stop operation at its cross-dock in Hostivice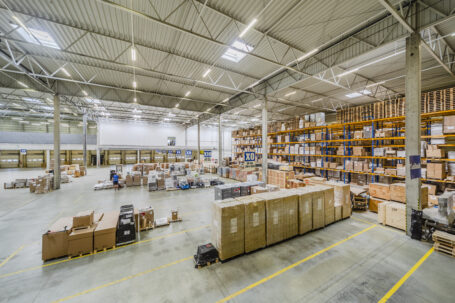 The domestic branch of a leading global logistics services provider has expanded its cross-dock operations with a third shift
Improved customer service, smoother distribution and more efficient use of human resources are expected
The Czech branch of Kuehne+Nagel is responding to the ever-increasing demand for transport services by establishing a non-stop cross-dock operation at its distribution center in Hostivice. The operation has been expanded to include a third, night shift from 1 November and the purpose of this innovation is to provide greater customer convenience and more efficient distribution of goods.
The total area of the Group's logistics and distribution center in Hostivice is more than 10,700 sqm, of which 4,270 sqm is used as the cross-dock.
The local branch of Kuehne+Nagel Group made the adjustment after careful consideration of the market situation. "The reason for the switch to non-stop operation is primarily due to the increased demand for transport by collection service. The purchasing behavior of customers has fundamentally changed and many of them are now ordering goods more frequently but in smaller volumes. The situation is also influenced by the factor of constantly growing e-commerce," explains Martin Froněk, Kuehne+Nagel Road Logistics Manager for the Czech Republic. The night shift also minimizes waiting times on ramps.
According to Martin Froňek, this step is an important milestone in Kuehne+Nagel's operations in the Czech Republic and proof of the significant development of its LCL service network. The expansion of operations at the Hostivice distribution center this year in the field of road logistics continued, for example, by the successful introduction of a new transport system using electronic delivery notes (e-PODs).
In addition to improving customer service and speeding up the distribution of shipments, the introduction of a third shift will also have a positive impact on the environment and the use of human resources, according to Kuehne+Nagel. The Hostivice distribution center currently employs more than 100 people.
"Greater operational efficiency naturally means greater sustainability and, in combination with KN EuroLink, will also give customers the certainty they need when planning their shipments. As far as delivery times are concerned, we offer our customers delivery on a standard date, on a specified day or on the first possible day," explains Martin Froněk.
The collection service network, which Kuehne+Nagel manages and operates, delivers to more than 40 European countries and offers more than 3,000 international departures per week.