CLASS IS NOW IN SESSION: THE AUTUMN WINTER 2017 FENTY PUMA BY RIHANNA CELEBRATED WITH TOP HONORS IN PARIS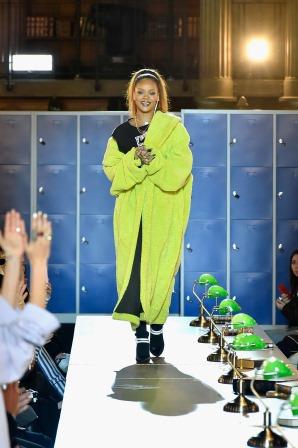 School Rules at FENTY University where Varsity Sport Meets High Fashion
In front of the global fashion community, FENTY Creative Director Rihanna and global sports brand PUMA presented the third installment of the beloved FENTY PUMA by RIHANNA collection. For the rebellious and daring, this season takes inspiration from the halls of FENTY University, paying homage to the kids gone rogue, who hit honor roll and serve detention in style.
Amongst the bookshelves of Bibliothèque Nationale de France, Rihanna and PUMA brought to life the collection muses: Classic American social circles and cliques – Nerds, Jocks, Skaters, Preppies, Goth kids and of course, Bad Gals. Models charged on top of library tables and overlooked from the balconies. The collection spoke to the FENTYxPUMA signature oversized look and featured unexpected, sexy styles with gender bending pieces and over-the-top school frocks. With inspiration stolen from school gymnasiums and chic locker room attire, the Autumn/Winter season includes coach's jackets, soccer jerseys-turned dresses, uniform style skirts, velour and poly track suits, bodysuits, cropped and oversized polo shirts, baseball tees and much more. With bespoke collegiate and high school style graphics, the FENTY Class of 2017 was in high session.
"When I was in school, it was always my dream to be able to dress up in whatever I wanted," said Fenty Creative Director Rihanna.  "But in Barbados it was mandatory to wear a school uniform, so I had so much fun this season creating these "Back to School" inspired looks, and I'm honored to present the collection in such a majestic national monument."
 The collection took the crowd back to the halls of their respective high school and colleges. Chunky hand-knit sweaters were showcased in plaids, chenille PUMA Cats and varsity F's adorned rib knit sweaters and dresses. Outerwear in all shapes and sizes ruled this season with a wide selection of FENTYxPUMA coats in faux shearling, faux furs, ultra-suede and technical nylon. Rihanna once again reinterpreted the traditional hard lines of sport by breathing new life into uniforms, track suits, tops and bottoms with technical sport fabric and fashion touches. Sexy school girl skirts and cheerleader style fashion corsets brought the audience to full attention. Detention hall never looked so good.
Signature branding details were featured throughout such as Rihanna's lucky number 13, her birth year 1988, the FENTYxPUMA piercing zipper and FENTY PUMA branded buttons and trims. Unique patches, hardware and sporty taping gelled the collection's sport theme even further.
New evolutions of the infamous PUMA Creeper were reimagined with stacked soles and ankle straps. New heels, translucent wedges, wellies, high knit styles and over-the-knee boots never failed to impress the student body. Oversized teddy bear bags, puffer-inspired hats and accessories, vanity cases and envelope bags were adorned on the arms of this season's models, who were also styled with a selection of warm and stylish trappers, caps, balaclavas, hoods, beanies, durags and ivy league style scarves. Collegiate chokers kept models in check using silk tie and varsity jacket style collars.
The Autumn/Winter 2017 FENTY PUMA by RIHANNA show was conceptualized by Rihanna and her teams alongside agencies Prodject and OBO. Make up design by Pat McGrath for PatMcGrathLabs. Hair styling by Yusef Williams (Factory Downtown) and L'Oréal Professionnel. Nail design by Jenny Longworth (CLM) with co-nail design by Tracy Rierson of Young Nails Inc. Styling by Tom Van Dorpe (Management & Artists). Jewelry by Lynn Ban.
The footwear, apparel and accessories collection presented in Paris will launch at retail stores worldwide in Autumn 2017. Tonight's presentation comes days before Rihanna's second season, inspired by what Marie-Antoinette would have worn to the gym, which begins hitting stores this upcoming Thursday, March 9th.
For more information about FENTY, PUMA and the partnership, visitwww.puma.com/rihanna or rihannanow.com. Follow PUMA onInstagram, Twitter, Snapchat and Facebook and follow FENTYxPUMAon Instagram.