Discount retailer Action celebrates successful anniversary on the Czech market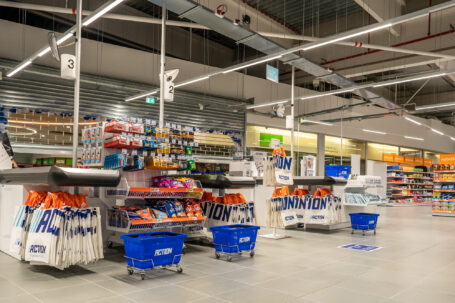 One year after the opening of its first Czech store, Action has recorded significant success on the local market. The Dutch non-food discounter has opened a total of 14 stores since entering the Czech Republic, employs about 300 people and continues to expand across the whole country.
Czechs embrace surprises each week
One year ago, the discount chain Action opened its first store in the Czech Republic. Despite the ongoing pandemic, the chain's market entry was successful, as evidenced by the growing number of newly opened stores across the country. "Although the pandemic has faced the entire retail industry with previously unknown challenges, Action relies on its unique formula and has seen great success on the Czech market. Czech customers love the broad and ever-changing offer in our stores and share the news with friends, family and colleagues or like-minded people in social networks. Every week, more customers come to our stores," says Monique Groeneveld, General Manager Czech Republic.
With more than 150 new products being introduced in stores every single week and 2/3 of the assortment changing constantly, customers always find a good reason to stop by. Moreover, around 1,500 items sold in Action stores cost less than CZK 25 (€1). The attractiveness of this unique concept is enhanced by the wide offer of goods: Action stores feature over
6,000 products in 14 different categories in one place – including, among others, personal care, household, decoration, stationary & hobby, sports or toys & entertainment goods.
"On September, 8th, we opened our 14th store in Kolin. We are just at the beginning of our journey on the local market. We will open at least six more stores until end of this year and many more in the years to come," Groeneveld announces. With the expected completion of Action's distribution centre in Bratislava in autumn this year, next year, also, Czech stores will be supplied from this new Slovak location.
Action invests in jobs and its people
As its number of stores increases, so does Action's importance as a local employer. Each of the stores employs approximately 20 people – from store employees, to assistant store managers, to store managers. Thanks to the company's store set-up, growth plans and culture, Action not only creates new jobs for local communities – it also offers opportunities for employees to grow. Since entering the Czech market last year, more than a dozen out of nearly 300 employees have already been promoted within Action.
Action keeps on investing in its local infrastructure and team: In June 2021, the country office of the Czech Republic was opened for its local administration and management team in Brno. Until end of this year about another 100 jobs will be created in the stores as well as in the management team.