Colliers Czech Republic Expands its Services and Newly Introduces its Design & Build Business Line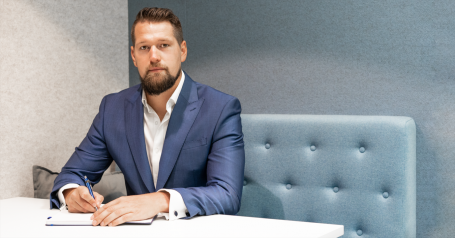 Colliers International Czech Republic today announces it has expanded its services with the launch of its Design & Build service line.  The new division offers clients a wide and integral range of services directly linked to occupiers' needs starting with fit-out consultancy, to drawing and planning space plans including the interior designs up to complete realization and turnkey handovers.  The services offered under Design & Build are relevant to landlords and new occupiers, as well as to existing ones who wish to redesign existing premises and improve the productivity and retention of their employees. The latest office trends and technology are implemented to create a working environment that both inspires and motivates employees.
The Design & Build department will work out of the Prague office and will be led by Ondřej Slavík, who joined Colliers from one of its market-leading competitors, where he was Senior Construction Manager. He worked with some of Prague's best known and largest companies successfully supervising and delivering turn key projects, contracting, tendering and preparing price offers including time schedules.
Slavík will leverage his experience and knowledge to bring an integrated and customised approach to creating positive, motivating and healthy work environments for Colliers International's clients in the Czech Republic. At a time of historic low unemployment in the region and scarcity of experienced workers, it is more important than ever to create a work environment that attracts and retains talented staff while improving services and promoting innovation, cooperation and flexibility.
Design & Build will take on board each client's working methods and needs, specific corporate culture and identity, and will analyse the work profile of employees and their requirement for space to then create a layout that meets current and future needs. In this way, the Design & Build team will transform the available space into a working environment where people can communicate, collaborate, innovate and take pride in job they do and the company they work for, whilst reducing any excessive unnecessary costs that can be utilized.
"I am pleased to announce that Colliers International is now ready to provide the highest quality Design & Build services to its clients across the Czech Republic. I'm very excited and eager to be part of this new challenge and I am delighted to be on board," says Ondřej Slavík, Director of Design & Build Services of Colliers International, Czech Republic.
The introduction of the Design & Build service is part of the growth plan for the Czech market. This has been put in motion since the company agreed in the summer to consolidate its business in the Czech Republic with the THREESIXTY Agency and THREESIXTY partner Tewfik Sabongui assumed the role of Managing Partner of Colliers International Czech Republic.
"Getting closer to our clients and understanding our clients' needs is our main priority and focus and therefore, growth and expanding on our service lines and strengthening them is necessary. Design & Build offers and allows our clients (occupiers and landlords) to enjoy a complex and important set of services that supports their business and can be beneficial to all types of businesses at their various stages of development and at the different business cycles. The team which is joining us belongs to the best there are in our market and they bring with them expertise, extensive know-how and market knowledge" says Tewfik Sabongui.