Asparagus taste sensations come to Emirates flights on the Dubai – Prague route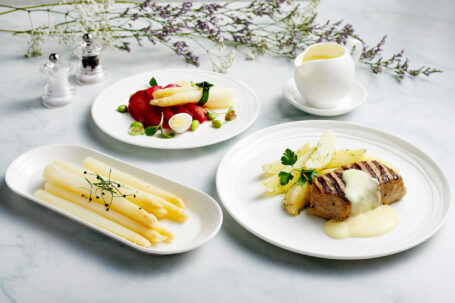 Emirates is celebrating a local culinary specialty on flights from Dubai to Prague with a seasonal asparagus menu. The offer is available during May and June for all customers on the Dubai-Prague route travelling in First and Business Classes, and it is also offered on flights between Dubai and selected German and other European cities. Dubai is among Czechs' favorite destinations for both leisure and business travel, and the flying experience with Emirates back to Prague is now being further enriched with the new seasonal celebration.
The asparagus harvesting season, taking place in Europe in the late spring and early summer, is a major part of the annual culinary calendar. Emirates is basing its asparagus menu around white asparagus, which is grown entirely submerged in fields with rows of foil-covered, knee-high sandy soil mounds. Protection from sunlight stops the stalks photosynthesizing and turning green. The result is a delicious, tender ingredient used in a wide variety of seasonal central European dishes.
First Class passengers flying on Emirates´ Dubai – Prague route can now enjoy an appetizer of white asparagus salad, served with beetroot-cured salmon, marinated edamame and quail egg. Two asparagus-oriented main courses are on offer: grilled veal steak served with white asparagus, steamed potatoes and a hollandaise sauce, and pan-fried salmon trout served with potted shrimps, white asparagus, potatoes and hollandaise.
Business Class passengers have two asparagus options. A starter of white asparagus salad with radish, peppers and seasonal greens can be followed by a main course of pan-fried salmon trout with shrimps, asparagus and potatoes.
Emirates' white asparagus menu options will be available throughout the traditional asparagus harvesting season, until June 15. As well as the Dubai – Prague route, the offer is also available on Emirates flights between Dubai and German airports in Munich, Frankfurt, Düsselfdorf, and Hamburg, as well as other European destinations including Amsterdam, Brussels, Paris and Warsaw.