Colliers International Strengthens Czech Team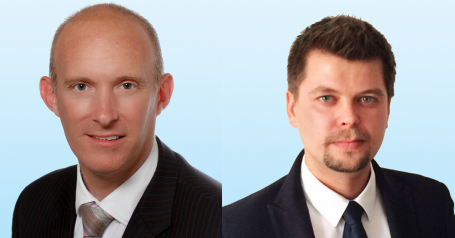 Colliers International today announced two new appointments to its Czech team. Mark Robinson joins Colliers as a CEE Research Specialist, and Tomas Szilagyi as a Senior Associate, Investment Services.
Mark Robinson (43) brings to Colliers 22 years of equity investment, stock broking and capital markets experience in emerging markets, having spent eight years as an equity fund manager specialising in Eastern Europe and seven years as Head of Equity Research at several renowned companies. In this role Mark built the first and largest equity research unit for the real estate sector in emerging Europe in 2005. Departments under his management won awards for quality of emerging European equity research every year between 2008 and 2012, and Mark too received personal client recognition and awards for his strategy each year between 2008 and 2012 during the height of the financial crisis. He holds a degree in Geography from the University of Oxford in the UK.
Tomáš Szilágyi (30) began his real estate career at IMPACT-CORTI as a property acquisition manager focusing on business development, where he focused on seeking new business opportunities, underwriting potential real estate deals and supporting the entire acquisition process. He later joined the CBRE Sales & Acquisitions team, where he built on his previous experience and shifted his professional focus from acquisitions to sales. During his career, Tomáš has contributed to numerous real estate transactions cumulatively totalling over €100 million. He holds a degree in Business Administration from the University of Economics in Prague.
"We are glad to welcome Mark and Tomáš to our Czech team, and in Mark's case to our regional team, though he will be based here in Prague," said Omar Sattar, MRICS, Managing Director, Colliers International Czech Republic. "We continuously seek out the best qualified people to provide the highest quality services to our clients, and I am confident that both Mark and Tomáš possess the skills and experience to further this endeavour."