CHEP Czech Republic officially receives Lean & Green Award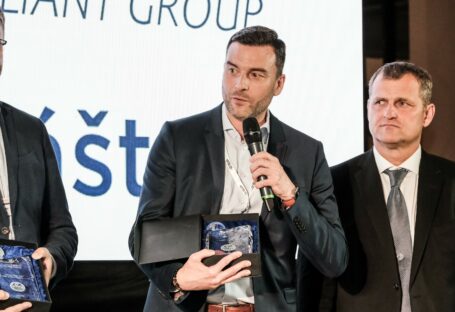 CHEP, the supply chain solutions company, has officially received the Lean & Green Award from the Czech-Slovak ECR (Effective Consumer Response) Initiative for its action plan for measuring and reducing CO2 emissions. The award was presented at this year's Speedchain conference at Prague's Strahov Monastery and was received by Frederic Rotrou, CHEP's country lead in the Czech Republic.
"CHEP is a pioneer of the circular economy and sustainability has been a fundamental pillar of our business for more than 25 years. Pallet pooling by its very nature makes a significant contribution to more sustainable logistics by reducing material consumption and waste production. I am delighted that our contribution and further ambitions have been officially recognised by an independent organisation such as ECR," said Frederic Rotrou.
CHEP received the award based on the development of an action plan that was independently audited by experts from the University of Economics in Prague. The audited plan works with accurate carbon emissions data and defines realistic targets, along with specific steps on how to achieve them. The Lean & Green Award recognizes the quality of the plan and precedes the achievement of the targets. Following the audit, CHEP will move into the activation phase, in which it will implement the steps set out in the action plan and report on its progress at regular intervals. Upon successful achievement of the set milestones and a demonstrated reduction of at least 20% in carbon emissions, CHEP will be awarded the prestigious Lean & Green Star certification.
CHEP's activities add value across the entire supply chain. Based on a life-cycle analysis of pallets, CHEP provides its customers with Sustainability Certificates that calculate CO2, waste and wood saved thanks to their mutual cooperation. The company's long-standing customers on the Czech market include leading manufacturers such as Unilever, Procter & Gamble, Drylock, Nestlé, Mondelēz, Lego, Pragolaktos, and Tereos TTD, as well as major retailers such as PENNY, Lidl, Billa, and Rossmann. By using pallet pooling, these companies contribute to more sustainable logistics and also meet their own ESG targets, as evidenced by the certificates issued by CHEP.