Chapman Taylor Office Project Underway in Bucharest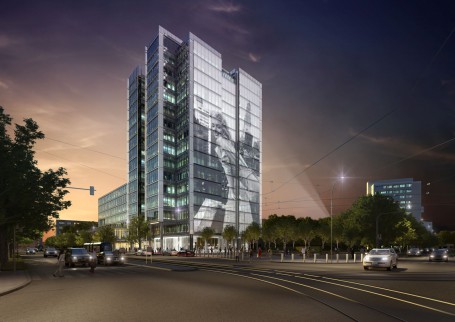 A new office project, 'The Mark,' led by Chapman Taylor Associate Director, Igor Bergmann, who is responsible for designing a number of key office and retail projects throughout the CEE region, is now underway in the up-and-coming business district of Romania's capital.
Slated for completion in 2019, The Mark will feature an elegant 15-storey tower alongside a six-storey podium together offering approximately 24,000 square metres of lettable office space.  Significantly taller that its surrounding buildings, The Mark and will also provide a visual reference point across the city, especially given that the structure's external blinds, when closed after dusk, are able also to act as a surface for light and art installations.
"From the very beginning of the creative process," said Igor Bergmann, Associate Director of Chapman Taylor's Prague studio. "The Mark will be, in essence, a focal point for the developing neighbourhood adjacent to the established business district of Bucharest, so we wanted to create a highly functional structure that is also interesting and aesthetically pleasing."
The Mark was designed to adhere to the BREEAM certification of sustainability with modern and eco-friendly solutions that will offer its future tenants the highest quality working environment. The Mark also includes 275 underground car spaces and an additional 44 spaces above ground, and offers excellent access to Bucharest's public transport network.
About Chapman Taylor
Chapman Taylor was founded in 1959 and operates 20 regional design studios in Europe, Asia, the Middle East and Central & South America. The firm has completed 2,000 projects in 90 countries and has won over 200 architectural awards. Chapman Taylor specialises in the retail, leisure, hospitality, residential, workplace and transportation sectors, and in the combination of these in large-scale, mixed-use environments.
Media enquiries:
Gabriela Dvořáková, gabriela.dvorakova@bestcg.com, +420 601 357 066