Cartoon Network Studios Unveils Journeys VR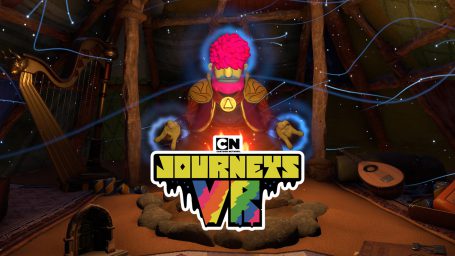 New VR Experience Available Globally on Steam is Developed Through Innovative Pilot Program and Combines Three Unique Experiences in One Hub
Cartoon Network Journeys VR is an original virtual reality experience developed through an innovative pilot program at Cartoon Network Studios. Select teams of artists and animators collaborated in a series of workshops at a VR lab based at the studio in Burbank to develop immersive stories and worlds using VR animation and storytelling tools. Beginning Tuesday, Oct. 1, Cartoon Network Journeys VR will be available worldwide for free on Steam and compatible with the Oculus Rift and HTC Vive.
In Cartoon Network Journeys VR, players begin in a cosmic desert oasis and encounter Gormlorm (voiced by Reggie Watts), a traveling wizard of the multiverse who guides players through three immersive journeys into other dimensions:
Jest to Impress: Transform into a jester performing for the King and his royal court. Give it your all to impress the King, but if your comedic acts fall flat, be prepared to meet your doom.
Beyond Beeville: As an outcast one-winged bee, you must save your colony from collapse by teaming up with your pollen companion, Penny. Explore the garden, solve puzzles, and discover secrets beyond the hive.
Kosma Kwest: You have been summoned to the cosmic plane by Kosma, The Supreme Being, to be evaluated as a potential successor. Complete four lessons of the cosmos and take your place on the celestial throne.
Cartoon Network Studios is dedicated to the development of artists both within the studio and its community. The VR lab is the latest initiative at the studio which also includes the Storyboard Artist Training Program, part of the Cartoon Network Studios Academy, which offers a variety of internal and external opportunities for both promising and seasoned artists to help discover and develop their professional and personal growths.