Bell Showcases the Bell 429 Law Enforcement Demonstrator and Bell 505 at Singapore Air Show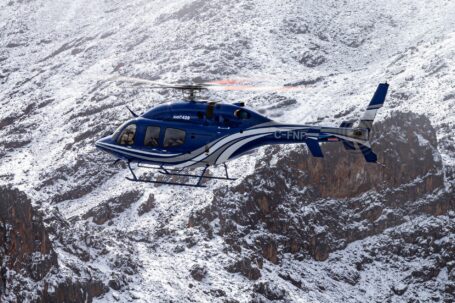 Changi Exhibition Centre, Singapore (February 15, 2022) Bell Textron Inc., a Textron Inc. (NYSE: TXT) company, is showcasing, for the first time in Asia, the Bell 429 equipped with ESG's Mission Management System and the Bell 505 with corporate interior.
"We are thrilled to be back participating in the Singapore Air Show," said Patrick Moulay, senior vice president, International Commercial Business. "At the end of 2021, we unveiled the Bell 429 demonstrator at European Rotors in Germany, and we are excited for its debut in Asia. This is a class-leading aircraft for law enforcement operators around the globe, and we are offering the most advanced 429 solution to our customers.
In 2020, Bell announced a collaboration agreement with ESG to install its Mission Management System in a Bell 429 as a law enforcement demonstrator. The aircraft is a definitive platform for public safety missions and can be equipped with specialized equipment including an infrared camera, searchlight, removeable and sliding doors, wire strike protection system, optional auxiliary fuel tank, fast rope insertion/extraction system and an equipment operator station with two 17" HD displays. The twin-engine Bell 429 is already in use with international law enforcement customers such as the Royal Thai Police, New South Wales Police, Philippines Police, Swedish National Police (SNP) and Slovakian Police.
The Bell 505 is the most advanced helicopter in its class. Every detail has been considered in its design, starting with the large, customizable cabin and fully integrated high-tech features. The aircraft provides superb visibility and panoramic views due to the glass cockpit, aided by comfortable stadium seating where the back seats are set slightly higher than those at the front.
In addition, the Bell 505 offers customers a generational leap forward with the dual channel FADEC-controlled engine and integrated Garmin G1000H NXi avionics system. These provide pilots a higher level of situational awareness and a reduction in workload, making the 505 simple to operate. It sets a new standard for helicopter VIP transport, designed to provide unprecedented performance, head-turning exterior lines and a distinctly smooth and quiet ride.