Bell Helicopter strengthens links with LOM PRAHA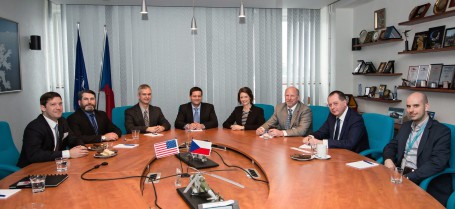 PRAGUE, Czech Republic (March 2, 2016) – Bell Helicopter, a Textron Inc. (NYSE: TXT) company, announced today a high-level delegation from Bell Helicopter's Fort Worth, Texas headquarters visited the LOM PRAHA headquarters in Prague. The visit's purpose is to consider ways to strengthen and enhance the links between the two companies. LOM PRAHA and Bell Helicopter have executed a Memorandum of Understanding which serves to explore opportunities for collaboration on UH-1Y aircraft service, support and training for Central Europe. Bell Helicopter has submitted the UH-1Y Venom utility helicopter as the most capable and cost-effective military solution for the country's Medium Rotorcraft Helicopter competition.
This week's talks focused on Bell Helicopter in its role as manufacturer of the UH-1Y and AH-1Z and as rotary aircraft supplier to the US Marine Corps. LOM PRAHA has provided insight from their experience as the logistics and support provider to the Czech Republic Air Force. A particular focus of the discussions was training, and the opportunities available for LOM PRAHA to adopt elements of the training concepts developed by Bell Helicopter and the US Marine Corps in their 50-year relationship.
Mr. Joel Best, Bell Helicopter senior international military business development manager, spoke of the strategic importance of Bell's relationship with LOM PRAHA: "We were careful to select the best option for potential support of the UH-1Y before signing our Memorandum of Understanding with LOM PRAHA last June. We are glad to be part of the growing ties between the United States and NATO members in this part of the world and we have every reason to expect the relationship between our company and LOM PRAHA to flourish. This delegation is intended to accelerate and broaden that process, and we have made significant progress in our talks."
Mr. Roman Planicka, general director of LOM PRAHA, said: "Bell Helicopter's heritage and experience in the field of rotary aircraft makes it a highly-valued relationship for LOM PRAHA as we adapt support and service functions for the Czech Air Force. Like us, Bell Helicopter has a long tradition of working closely with its armed forces and defence authorities, and has much to offer a company like ours where industry leading customer support and responsive services are our primary focus. Our talks have opened up a number of avenues for closer collaboration and co-operation with substantial benefits to both parties."
Bell Helicopter currently owns and operates a European customization, completion and delivery center on the grounds of Vaclav Havel Airport, established to answer the heightened demand for Bell Helicopter's civil products and services in Europe.
Bell Helicopter, part of Textron Inc., was founded in 1935 and has been a world leader in both military and civil rotary aircraft over the last eighty years. It has delivered over 35,000 aircraft to customers in 120 countries. Textron also owns a group of other illustrious names in aviation including Cessna, Beechcraft, Hawker and Lycoming.
LOM PRAHA was established by the Czech Ministry of Defence in 1915. It provides a wide range of support services in helicopter and aircraft operation including overhauls, upgrades, manufacture and repair, flight training and tactical aircraft simulation for helicopters, aircraft and ground forces.