App connecting local art with travel wins Kiwi.com's 2019 Global Hackathon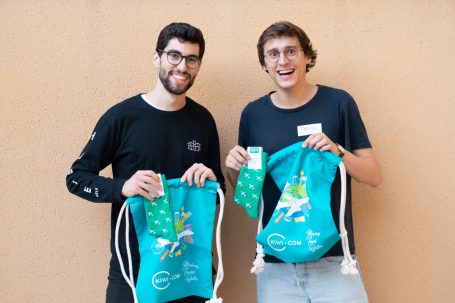 The future of travel: drinking water search app, sound accompaniment for blind people and navigating cities via well-lit streets 
Prague, 29th October 2019 – Kiwi.com's 2019 Global Travel Hackathon – which each year on World Tourism Day brings together engineers, designers and innovators from around the world in a creative and supportive environment to encourage ideas on how to hack travel – was won by the Pinguin Bots team with an application that connects travellers with local artists.
This year's Global Travel Hackathon, held on 27 September, was focused on sustainability, accessibility and community, and brought together original ideas from more than 50 programming teams from all over the world.
Twelve projects qualified for the final round of the hackathon, which was won by the app from Pinguin Bots that supports local communities by offering travellers suggestions for concerts by local artists based on their flight searches.
Other finalists included Siesta Radar from Brno, which proposed sky or rafting suggestions based on snow or rivers conditions provided by satellite data combined with Kiwi.com's booking API; a content platform askLiv from Barcelona, which gathers information for travellers based on their health conditions; the LightPath app from London, which finds well-lit routes through cities that avoid dark pathways; and the Drinking Water platform from Taiwan, which locates drinking water sources in cities in order to help reduce the use of plastic packaging in bottled water.
Elises Delgado Tamarit and Oriol Nadal Bufí from the Pinguin Bots team, said: "We are constantly trying to come up with new ways to use technology to enhance aspects of our daily routines, or at least make them more fun, and we also love travelling. When we found out about Kiwi.com's hackathon we became very excited about the challenge of spending 24 hours working on a creative idea that uses technology to make travel better. Right after the hackathon we became very motivated by the feedback we received about our idea, and we decided to continue working on it in order to eventually publish it on the Chrome Store so people can use it."
David Pavlík, chief information officer of Kiwi.com, said: "We were excited about the Pinguin Bots idea to connect travel and music in the pre-trip phase. We believe this can bring inspiration when searching for a weekend away or put you in the mood for visiting places far away. The fact the team delivered a working solution within the given hackathon time and focused on simplicity convinced us that this should be the winner. At Kiwi.com we also look for unusual connections, through our virtual interlining algorithm, and then use just the right technology to deliver it to our customers."
The Global Travel Hackathon is one in a series of activities by Kiwi.com that support and integrate promising programmers and their ideas to change the world of travel. Kiwi.com hopes the Global Travel Hackathon was a first step in triggering a global #HackTravel movement that will ultimately become a platform for constant improvement in the travel industry.