Action opens its second Prague store in quick succession as Czech success story continues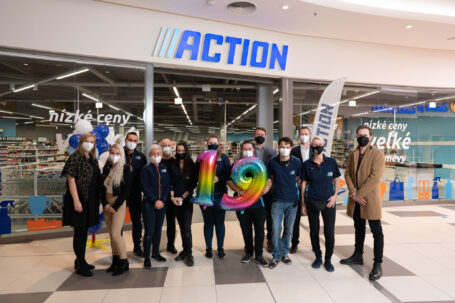 Dutch discount retailer Action is going from strength to strength in the Czech Republic. After entering the Czech market last year, the company opens today its second new location in Prague in less than two months at OC Galerie Butovice. Rapid expansion in the Czech capital will make the unique Action experience easily accessible for shoppers in Prague and the surrounding areas.
Bringing Action to Prague
Visiting an Action store is unlike any other shopping experience. The brand uses a unique business model with a constantly changing selection of products. More than 150 new products are introduced in stores every single week, and 2/3 of the assortment changes constantly. Moreover, around 1,500 items sold in Action stores cost less than CZK 25 (€1). This ensures shoppers find a pleasant surprise every time they visit the store, and the model is proving just as popular in the Czech Republic as it is in Action's eight other European markets.
The brand's new Prague location in OC Galerie Butovice will provide more opportunities for shoppers in the Czech capital to enjoy this experience. The store at Radlická 520/117 will be the second Action location to open in Prague this autumn, less than two months after the first Prague store opened in Vršovice. This rapid expansion underlines Action's excitement about the Czech market and the impressive success of its entry into the country to date.
"Opening our second store in Prague at OC Galerie Butovice is a special moment for us," said Petr Juliš, Action General Manager for the Czech Republic. "After the success of the first year of our operations in the Czech Republic, we are thrilled to be bringing our shopping experience full of surprises to the Czech capital again. We're confident Prague shoppers will be just as excited by our ever-changing, great-value selection as people in the rest of the country."
Action's Czech success story
Action's new Prague store is its 19th in the whole of the Czech Republic. The opening of this number of stores in just over a year is testament to the seriousness with which Action is taking its entry on the Czech market, as well as the high popularity of its business model with Czech shoppers.
The company's Czech team now consists of over 300 people, with more set to be added by the end of the year. The company focuses on ensuring its employees can develop and grow within its structure, while providing exciting employment opportunities for people of all ages, backgrounds and qualification levels at its locations throughout the country.
"Our success in the Czech Republic is also good news for our local employees and business partners," said Petr Juliš. "More stores mean more jobs, more opportunities, and deeper integration into the Czech economy. Our business also places great emphasis on sustainability and responsible corporate governance, making us a force for good in all the countries where we operate."