Action continues to grow in Poland and opens a new DC in Bieruń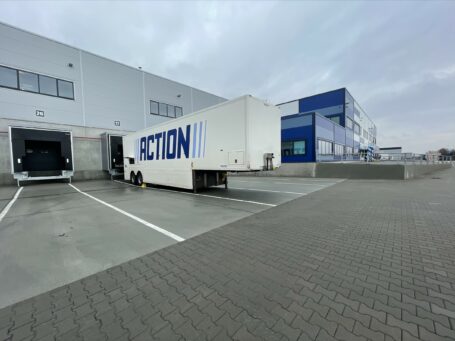 Today, the international non-food discounter Action officially inaugurated its second distribution centre (DC) in Poland, located in Bieruń. It's Action's eleventh DC in Europe. Awarded with BREEAM Excellent certificate, DC Bieruń received the highest grade in its category. Action opened its first store in Poland in 2017 and continues to invest in the future expansion of its business in this market. Currently, there are almost 176 stores, across all Polish regions. The opening of DC Bieruń in the commune of Bieruń in Silesia region is another major investment in this country to support store expansion.
Over the past four years, Action has increased the number of store openings in Poland every year, now amounting to a total of 176 stores. As a result, the company employs more than 2500 people in Poland and ambitions this figure to grow to 3000 by the end of May 2022.
"Our strong growth course since we entered Poland shows that the Polish people love the Action shopping experience: an ever-changing assortments at low prices and good quality" explains Sławomir Nitek, General Manager for Poland. "I am very proud of what we achieved with the Polish team, whether employees work in stores or in DCs. We will continue having high ambitions in Poland and will keep strengthening our Polish organisation as well as the supply chain", he adds.
Second distribution center in Poland
Action's eleventh distribution center has started its operations in the commune of Bieruń, Poland in October. Today's official opening celebration marks a major milestone for Action's development in Eastern Europe. This DC is the first outside the Netherlands that is fully managed by Action.
The building measures 60 800 m2, of which more than 58 000m2 is warehousing space – with space to stock 56 000 pallets – and 2 500 m2 are office and social rooms. DC Bieruń will serve up to 200 stores in Poland. Bieruń provides a good infrastructure and a central location to support Action's growth and supply Action's existing and future stores in Poland. In the long-run, the DC will create more than 200 jobs in the region.
"We are proud that Action has chosen our municipality to locate its second distribution center in Poland", explains Krystian Grzesica, mayor of the city of Bieruń. "We welcome the arrival of companies such as Action. It means new jobs for our residents. This is a win-win for both Action and the people of Bieruń and its surroundings. I wish Action every success with this beautiful DC" he adds.
Action and the international construction company Panattoni developed the DC with special consideration for the environment: "We went for a combination of functionality and sustainability, and included as many environmentally friendly details as possible – from materials used, up to construction details and installed equipment", explains Sławomir Nitek. Granted with an "Excellent" certification by BREEAM, DC Bieruń received the highest score on this level so far, as much as 77.1%. The DC's water, energy and waste management are particularly sustainable. The building benefits from energy efficiency implementations such as solar panels for heating water, PV-panels for electricity, intelligent energy and water meters, energy-efficient LED lighting in the building and outside areas and charging stations for electric cars.
The distribution center is owned by Action. All DC operations are managed by Action.