Ben & Jerry's Supports the Better Conditions for Dairy Cows Campaign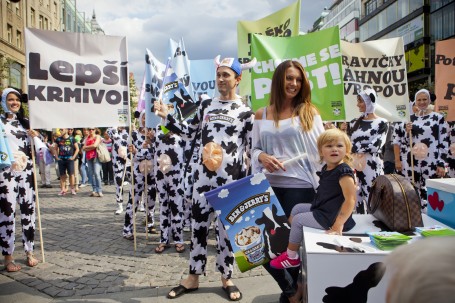 Best Communications—the Prague PR agency— supported Ben & Jerry's and a number of global NGOs with the launch of a new campaign on the Czech market called "Better Conditions for Dairy Cows," which was introduced on an European scale with the objective of proposing new legislation in the EU regarding the treatment of dairy cows. In order to increase awareness among Czech people about living conditions and to collect as many signatures as possible for a petition supporting the new legislation, two large events were organised in Prague city centre: a cow demonstration and cows dancing for the public. Both events connected the important message to a playful atmosphere, provoked discussion, and generated a significant buzz around the Ben & Jerry's brand; in addition, the famous Czech actress Alice Bendova participated in the event. All-in-all, the event secured hundreds of thousands of signatures for the petition.
Together, the events generated extensive coverage across the entire media spectrum: dailies, TV stations, and lifestyle media, resulting in over 60 outputs.