The Winged Lion Memorial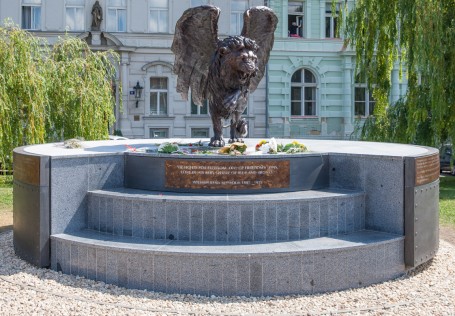 Best Communications, in cooperation with the British Embassy of Prague, proudly facilitated the launch of the Winged Lion Memorial to commemorate the bravery of some 2,500 Czechoslovak airmen who fought with the Royal Air Force to free Europe from Nazi tyranny during the Second World War. The brainchild of Best's own Euan Edworthy, the memorial took shape in the form of a two-metre bronze lion that was unveiled at a ceremony in Prague on 17 June 2014, which was presided over by Sir Winston Churchill's grandson.
Following a morning press conference at Kbely Airport, an official unveiling ceremony was held at Prague's Klarov Park, accompanied by a Spitfire fly-past and Beating Retreat by the Royal Air Force Central Band. The occasion was also marked by the production of a TV documentary 'They Flew for Freedom' and the publication of a book by Nick Watson: When Lions Roar. A second event was also held at the installment of a commemorative plaque in Bratislava the following afternoon.